Golden History of Rotary Club of Rewari Main
In 1976, District Governor Rtn. Brijmohan Lal Munjal, Chairman and MD of Hero Honda appointed a Representative Rtn. PP Nand Lal Ganeriwala in order to form a new club in the community. They wanted to expand the essence of Rotary primarily in Haryana District. At that time, Rewari was a tehsil under Mahendragarh District.
Past President from Rotary club of Sirsa, Rtn. Nand Lal Ganeriwala approached his friend Sh. Ashok Kumar Sethi from Rewari and asked him to check the possibilities about formation of a Rotary Club in Rewari vicinity.
At that time Rewari had a very active Lion's Club and Dr. Saxena was the President. On 18th Feb 1976, the first meeting was called upon by Sh. Ashok Sethi. Famous doctors of Rewari Dr. RamjassBhayana, Dr. Surrender Bhayana& Dr. I.C Vidyasagar along with other 16 prominent people of Rewari with an instinct to serve & for welfare of the people of the city attended the meeting.
Dr. Vidyasagar proposed the name of Sh. Ashok Sethi as charter president of Rotary Club of Rewari. The proposal was unanimously accepted by all participants of the meeting.
First Board of Rewari Main in 1976 was as under:-
President: Sh. Ashok Kumar Sethi
Vice President: Major Bhim Singh 2nd Vice President: Dr. Surinder Bhayana Secretary: Sh. Sudhir Bhargava Joint Secretary: Sh. Prakash Bhuraria Treasurer: Sh. Rakesh Jain Seargent at Arms: Sh. Anil Jain
Board of Directors: Dr. J. C. Vidiasagar, Dr. RamjassBhayana, Sh. Bhupender Bhargava , Sh. Moti Ram Gupta, Sh. Mahendra Rustogi & Sh. Naresh Bhargava
Charter Members: Sh. P.K. Mukherjee, Sh. Sunil Grover, Sh. Chotey Lal Gupta, Sh. Raj Kumar Gupta, Sh. Surinder Kumar, Sh. Surrender Soni, Sh. Dilip Khandelwal, Sh. Sarvesh Mathur, Sh. Jain.
The members used to meet every Thursday and they always involved R'Anns in each and every project. The club started various social welfare projects, one of which was the landmark Major Eye camp jointly organised by Dr. Ramjas& Dr. Satish Gupta from Delhi. 150+ Cataract operations were done that year. It was done in open lawns of Tek Chand Club.
The installation of Rtn. Ashok Kumar Sethi as President of Rotary Club of Rewari happened on 19th November 1977 at Tek Chand Club, Rewari in the dignified presence of then District Governor Rtn. Sudarshan Aggarwal, Secretary General Rajya Sabha, PDG Manohar Lal Manchanda and IPDG Brij Mohan Lal Munjal. District Collector B. D. Dhaliya (IAS) was the Chief Guest.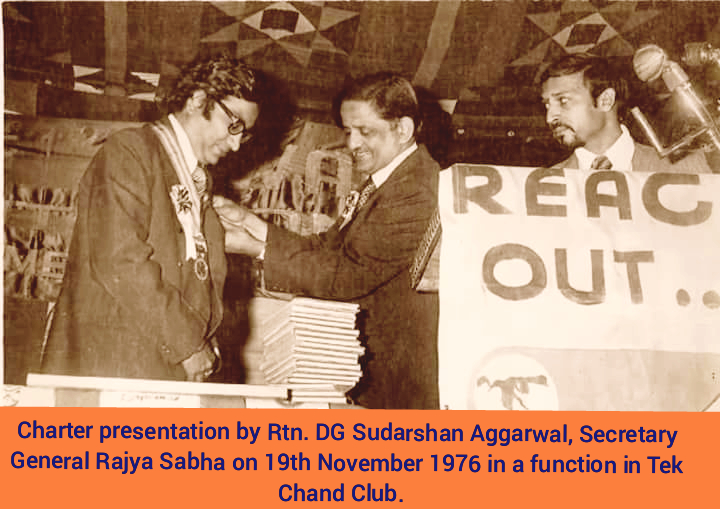 Club also organised a huge entertainment event on the charter anniversary of Rotary Club of Rewari on 19th November 1980. Hollywood Star Sh. Sunil Dutt was chief guest & Col. Ram Singh was the Guest of Honour.Tributes were paid to the renowned actress Mrs. Nargis Dutt Actress by noted play back singers Mahender Kapoor, Chandrani Mukherjee, Abhijeet noted as well as Dinesh Hingoo, the Comedian. This function was organised at Khushwaqt Theatre, Rewari.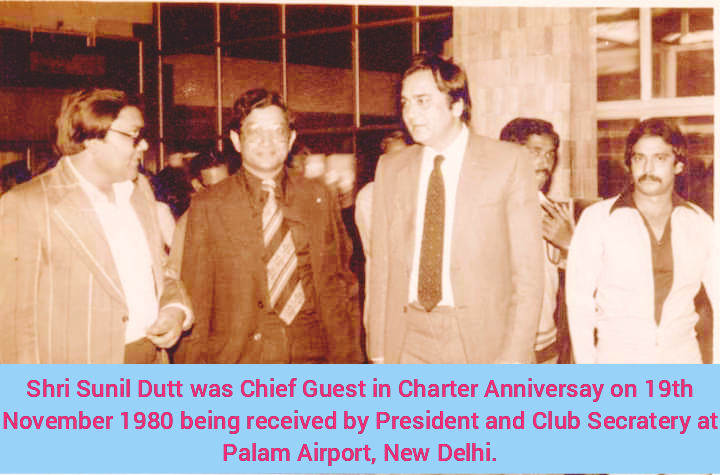 Since then, Rotary Club of Rewari kept on doing numerous social welfare projects in Rewari and soon became the symbol of social reform.
Due to some unfortunate circumstances, the club got ceased in early 90's. However, aftera short interval,
in 1995, Rotary Club of Rewari Main came into existence with new zeal & energy.
Rtn. Jyoti Ram Chawla became the first charter president of this new club. After that Rotary Club of Rewari Main did some wonderful social welfare activities. Rotary Club of Rewari Main won platinum award multiple times in the years 2009-2010, 2010-2011, 2011-2012, 2014-15, 2017-18 & 2018-19 in Rotary District 3011 due to its commendable contribution for social welfare. Club also received Rotary Citation in 2018-19. Rtn. Pradeep Narula & Rtn. Arun Gupta bagged Prestigious District Best Secretary Award in Year 2016-17 & 2017 – 2018 respectively for their effective & efficient working in their Rotary years.
After formation of Rotary District 3011, Rotary Club of Rewari Main moved to that district. The club become the synonym of real humanity and this was possible only due to the humane activities done by the dedicated & devoted members of this Club for the society.
Today people of Rewari are serviced with multiple notable projects in the district, like Mortuary Van, Drinking water hut at Shiv Chowk, Matritv Kaksh (Civil Hospital), Blood Services, Setup of Library in Govt. Schools, WASH Programs in schools, Wheel Chair to Needy, Rotary Navprerna Vocational Centre (School for Specially Challenged Children) . Besides these, many more are running successfully due to the sincere efforts of Rotary Club of Rewari Main.
The mission 'Save Girl Child: A fight against female foeticide was carried out successfully in 2012. People are being educated to make lives of our daughters better. In this series a women Cell sponsored by Rotary Club of Rewari Main was inaugurated at J.R. Memorial College of Education Rewari to make pupil-teachers aware about social atrocities.
Due to efforts of Rotary Club, Polio word is now history in Haryana. Due to sincere efforts of club, not even a single case of polio has been detected for the last one year.
Rotary Club of Rewari Main is organizing Blood Donation Camp, Medical Checkup Camps on regular basis to make the general public aware about the health & proper sanitation. Club also organizes regular career counselling programs in various schools of Rewari.
Eminent Personalities from different walks of the society like students, Social workers, Dedicated & Honest Govt. Employees are also honored by the club from time to time.
Youth is guided by Rotary Club of Rewari Main, in a manner that one day they would contribute to the welfare of our nation.
Some students who are socially or economically deprived causing hinderance in their studies are also supported by Rotary Club of Rewari Main through fees/books/food so that in future they would become responsible citizens.
In totality, Rotary Club of Rewari Main is doing and desires to continue to do the welfare activities in such a manner so as to have a civilized, healthy and educated society.