Partner with us
Rotary Club of Rewari Main
Working With Rotary Club Rewari Main
Rotary clubs and districts around the world benefit from working with other organizations to carry out service projects. Rotary Club Rewari Main has been actively involved in several projects and has completed several projects of great local, regional and national impact. Some of the Organizations that Rotary Club Rewari Main have worked with in the past are:-
Hero Moto Corp, Dharuhera Plant (Blood Donation)
Red Cross Society, Rewari (Blood Donation)
Keysight Technologies International India Pvt. Ltd., Manesar (Blood Donation)
Civil Hospital, Rewari (Pulse Polio Awareness)
Magneti Marelli Powertrain India Private Limited, Manesar (Blood Donation)
Anand Group of Companies, Gurgaon (Life Saving Techniques)
Adani Power Ltd., Kanina (Blood Donation)
Rockman Industries Pvt. Ltd. Bawal
Indira Gandhi University, Mirpur
Keihin Fie Ltd. Bawal (Blood Donation)
Hollister Medical India Pvt. Ltd. Bawal
Suroj Buildcon Pvt. Ltd. Bawal
Farukhnagar, Hdfc Bank
We are also associated with most of the Govt. Schools of Rewari and organise several awareness programs there from time to time on below topics:
Blood donation
Cancer Awareness
Tree Plantation
Hand Wash and Sanitation
The projects selected by RC Rewari Main have following key points:
Projects are of sustainable nature
Projects are supported by members' immense technical and management experience
Projects not only impact local communities but also regions, national and the world in its own little way
Inspire community leaders to join Rotary upon invitation
Increase public awareness of Rotary club activities
The Indian Companies Act, passed by the Indian parliament in 2013, requires companies with an average net profit of at least 50 million rupees (approximately US$816,000) over a three-year period to spend two percent of their net profit on social development. The Rotary Foundation (India) is eligible for accepting these Corporate Social Responsibility funds from Indian corporations under this act.
Rotary is world's largest voluntarily service organisation with track record of successful humanitarian projects. Major global success in riding the world of polio with global partners WHO, UNICEF, CDC, World Bank, Bill and Melinda Gate Foundation.
Know more on Rotary & CSR
Rotary Advantage:-
Complete Transparency in utilization of corporate CSR funds.
Availability of business and professional leaders who take up the stewardship of the project and utilization of funds on voluntarily basis.
No Administrative Expenses.
Regular progress reports with photographs.
Media exposure support to CSR supported projects.
Rotary's 6 areas of focus are as below:-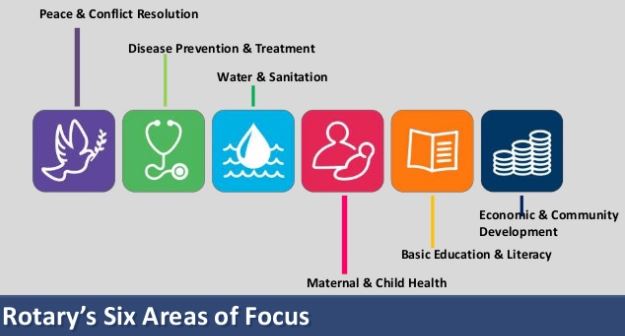 If you would like to work with us, sponsor a project, would like to do a matching grant project or for any CSR initiative covered under corpus of activities mentioned in Schedule VII. You may contact us:-
Rtn. Arun Gupta (President) - M:- 9215224720
Rtn. JP Chauhan (Hony. Secretary) - M:- 8130933744